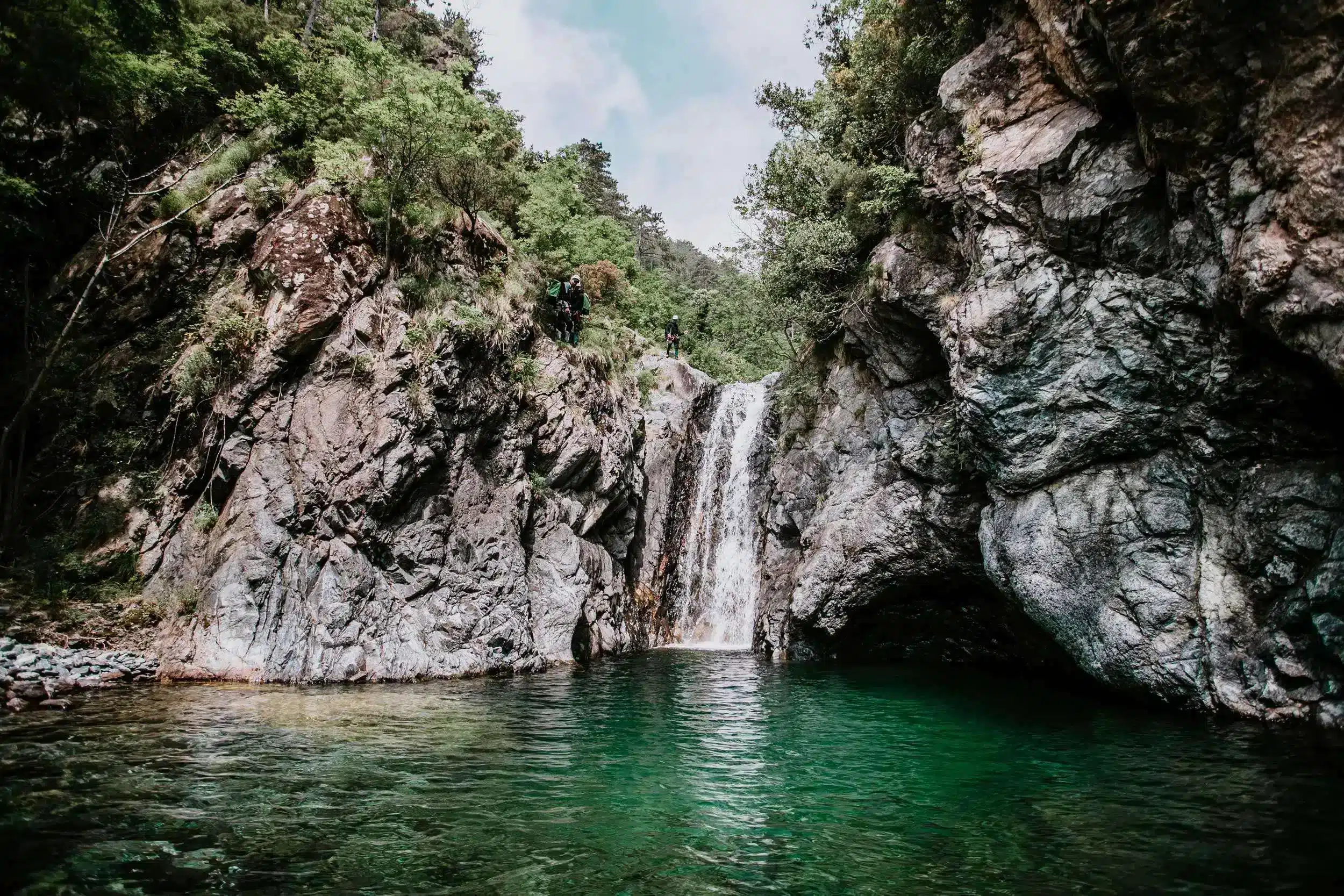 Liguria is home to some extraordinary canyons of surprising beauty and with the most diverse features.
The Ligurian hinterland is characterized by a varied and lively landscape.
Moving a few kilometers from the coast, we find hills, mountains and inaccessible valleys that offer a perfect playground for canyoning. From Levante to Ponente, we find a large number of possible descents.
These itineraries offer an alternative and funny way to discover little-known valleys and environments,
to add new emotions to a holiday or a weekend by the sea.
Their position is "strategic" from various points of view. In fact, they are well suited either as an intermediate stop on a longer journey for those planning to cross Liguria, or for an alternative sporting weekend for those coming from nearby regions such as Lombardy, Piedmont or Tuscany.
Two descents that we propose, the Rio Prialunga and the Rio Lerca, are located near Genoa, in two valleys parallel to the slopes of Monte Beigua:
a wild and isolated environment yet so close to the city and easily accessible from the motorway.
The two canyons have very different characteristics, the Rio Prialunga is more technical and demanding, the Rio Lerca is especially playful
and are therefore able to satisfy every type of need.
Both canyons are characterized by a bright and sunny environment, where the pools of crystalline water shine like emeralds.
Near Sestri Levante we find the little-known Rio Bargonasco, a path that is not too long and easily accessible but extremely enjoyable thanks to the constant presence of water and some natural slides. Two hours of activities that can enliven and vary the weekend.
On the border with France, above the characteristic village of Rocchetta Nervina among olive trees and old terraces flows the Rio Barbaira, a true natural wonder, a varied descent where fun and natural beauty blend perfectly.
In Liguria many descents of all levels and duration await you to spend a moment of sport and discovery. And then the sea that is the backdrop for a day of canyoning is one of the many beautiful things that you will only find in Ligurian streams.
Itaca propone canyoning
nei più bei torrenti della
Toscana e della Liguria
con guide diplomate ed esperte.