Hello everyone, dear fellow adventurers, I am Marco Peli. Today I am here to tell you about one of my greatest passions, an activity that makes me feel alive and allows me to explore the most inaccessible and fascinating places on our beautiful planet. I am talking about canyoning, or torrentismo in italian.
A passion that I have decided to make you fall in love with too.
But what exactly is canyoning, you ask? Get ready to discover a world of adrenaline, natural beauty and fun that will leave you breathless!
Canyoning is an experience you will never forget
Canyoning is a sporting activity that consists of following a water course on foot along its most beautiful and inaccessible stretches. Imagine walking, swimming, jumping and sliding along waterfalls and natural pools, overcoming obstacles on the course with the help of ropes and special equipment. It is a unique experience that combines the discovery of extraordinary natural environments with the excitement of an adrenalin-fuelled sporting activity that is fun and accessible to all. It is a perfect mix of sport, adventure and connection with nature.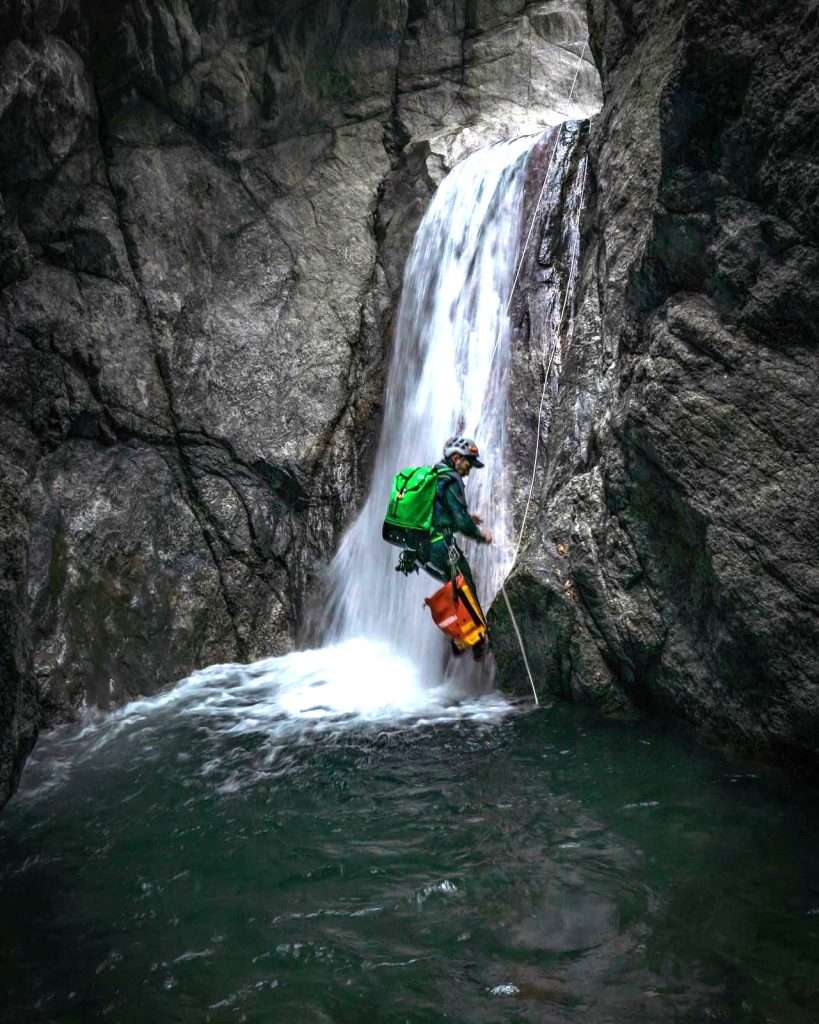 Who can canyoning?
Now, I know what you're thinking: "But I'm not an athlete, I can't do that!" Well, you are wrong! Canyoning is suitable for all levels of fitness and ability.
There are beginner, intermediate and advanced courses, so there is something for everyone.
And don't worry, you will always have an experienced guide by your side to ensure your safety and help you overcome any obstacles.
The guides, like me, are certified professionals who know the routes like the back of their hand and are there to make sure you have a safe time.
An experience to be faced safely
Speaking of safety, it is important to emphasise that there is no fun without safety. Before starting the activity, the guide will give you all the information on safety and progression within the canyon. You will be given the right information on how to overcome each obstacle and the different possible options. To enjoy canyoning at its best, you need to be in good health and physical condition, not be afraid of water and, above all, have a positive and adventurous attitude!
Canyoning equipment
As for equipment, you will need a helmet, a wetsuit, a life jacket, a safety belt and suitable shoes.
The helmet is essential to protect the head from falls or shocks;
The canyoning suit serves to keep the body warm in the water;
The lifejacket to help you float,
A safety belt or harness for attaching to ropes during descents;
Finally, shoes suitable for walking on slippery ground.
Don't worry if you don't have these things, most canyoning guides provide the necessary equipment.
Why try canyoning
Why should you try canyoning at least once in your life? Well, besides the fact that it is incredibly fun, it is also a great way to connect with nature and challenge yourself.
It is an experience that allows you to get to know and overcome your limits, to discover what you are capable of and to experience moments of pure joy and adrenaline surrounded by nature.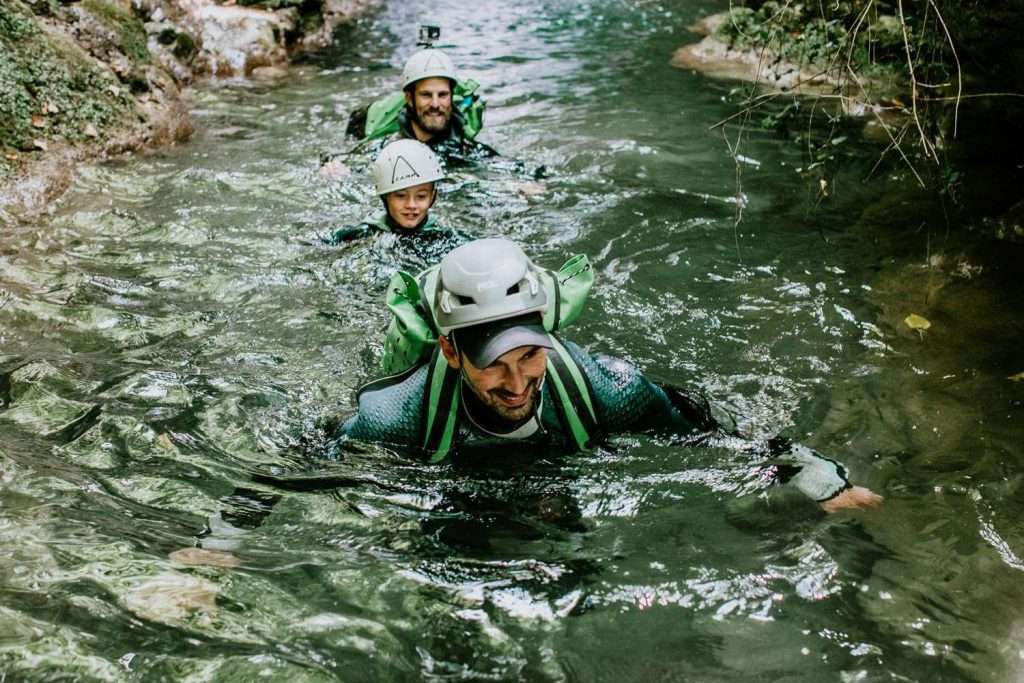 I promise you that once you have tasted the adrenaline of jumping into a natural pool or sliding down a waterfall, you will never want to go back and you will never get enough!
A motivational group activity
In addition, canyoning is a great activity to do in a group. Whether you are with family, friends or colleagues, canyoning allows you to share unforgettable moments, work as a team and create stronger bonds.
It is an experience that brings you closer to others and allows you to share the joy, adrenaline and beauty of nature.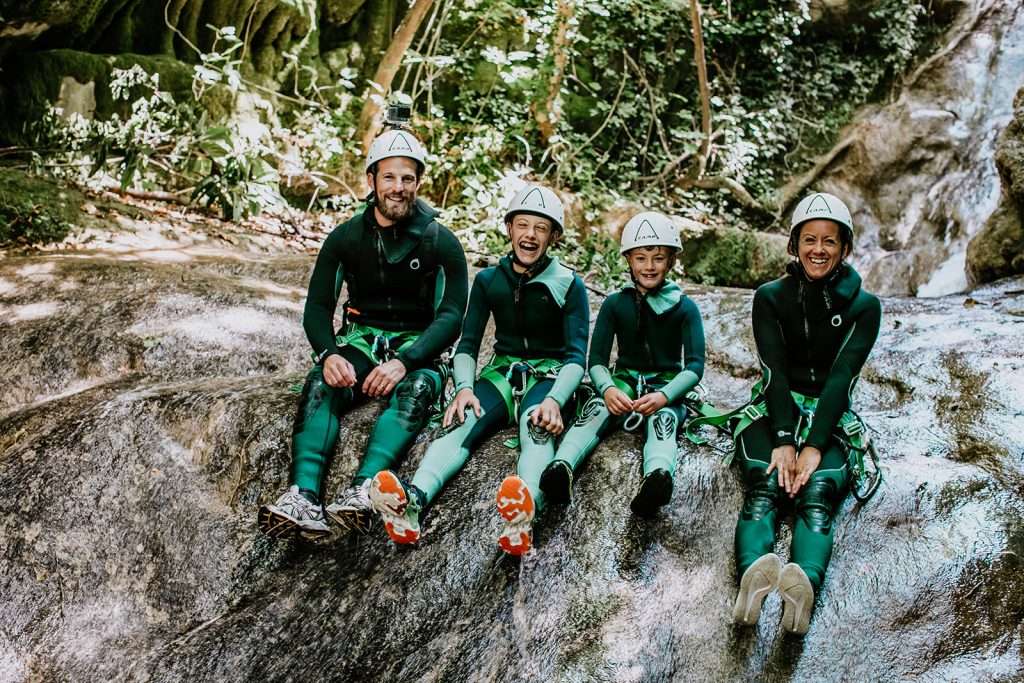 Conquering the most beautiful torrents between Liguria and Tuscany
So, what are you waiting for? Come and discover the most beautiful and interesting torrents between Liguria and Tuscany with us. Whether you are looking for a half-day or full-day adventure, we have the perfect route for you. Contact me and together we can find the most suitable route for total fun in complete safety.
Adventure awaits
Remember, the adventure is out there, just waiting for you! Don't let fear stop you, challenge yourself, try something new, something exciting, something that will make you feel alive. Canyoning is more than a sporting activity, it is a life experience, it is a way to connect with nature and with oneself, it is a way to experience adventure and to create unforgettable memories. Don't miss the opportunity to try this incredible experience, we are waiting for you!